Naada
Name
Kanji:
-
Romaji:
-
Others:
Bag Man (by Teruharu Kosukegawa and Motoko Gettou)
Characteristics
Age:
-
Gender:
Male
Occupation:
-
Appearance
Debut (Manga):
Chapter 5
Family
-

Naada is part of the team that was trying to bring Motoko Gettou 's hidden personality out along with Ralph Austin and Sahra .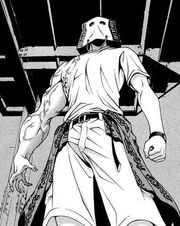 Naada's first appearance is him confronting
Fujiko
and
Kosukegawa
after their date. At the time he was wearing a paper bag and had distinct heavily muscled arm, which had him dubbed "Bag Man" by Fujiko and Kosukegawa.
Abilities
Edit
Naada has the ability to use acupuncture needles to insert certain muscles into his body to make them stronger and larger. He mentions that this was a technique passed down in his family.
Ad blocker interference detected!
Wikia is a free-to-use site that makes money from advertising. We have a modified experience for viewers using ad blockers

Wikia is not accessible if you've made further modifications. Remove the custom ad blocker rule(s) and the page will load as expected.